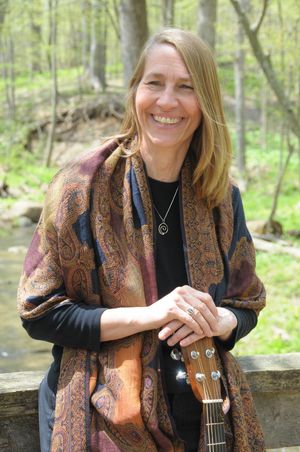 Denise is a musical jack-of-all-trades whose music has been strongly influenced by her family's Celtic roots, her love of history, and her passion for using her musical gifts to uplift, inspire, and create connections with people of all ages. She contributes to the textured sound of Traveler's Dream with her exuberant voice, Irish flute and whistles, fife and the concertina.  
Denise is recognized as one of the Midwest's finest singers of traditional and historical music, particularly the Celtic, French-Canadian and traditional American songs which were popular in 18th and early-19th century America.  With a B.S. in French and a Ph.D. in American History, Denise has a broad knowledge of the culture and history surrounding the music she plays.   In recent years she has focused increasingly on writing her own songs and finding new avenues for sharing them.  Her original songs give voice to the things she values most --  beauty and simple pleasures, living a life of purpose, and gratitude for the people in her life that give her strength, make her laugh, and make life worth living.
In 2013 Denise released her first solo recording, 
A Song the Birds Believe
.  The album contains seven original songs and tunes, two traditional pieces and a piece by contemporary singer/songwriter Pat Humphries.  The result is a very strong debut recording which is founded upon her honest, open-book way of looking at the world.  The songs take root under her care and blossom into a work crafted with love, integrity and creativity. 
As a solo artist, Denise offers two unique programs to women's organizations, professional associations, women's retreats, and other gatherings.  WOMEN'S VOICES, WOMEN'S SONGS and CREATIVITY:  A PATH TO PEACE AND PURPOSE.  More on these and other educational and musical programs is available at 
www.denisewilson.net.
Denise put on her traveling shoes the last few years with trips to India, and more recently, a trip to Ireland.  Her latest venture is creation of a non-audition community choir in Lafayette.  To gain needed skills, Denise traveled to British Columbia for a two-week intensive "Community Choir Leadership Training" program.  She is committed to helping others develop confidence and comfort with their natural singing voices and to building community as people gather together to sing in a relaxed, fun environment.  
As always, she spends as much time as she can outdoors enjoying time with her friends, family and Mother Nature.