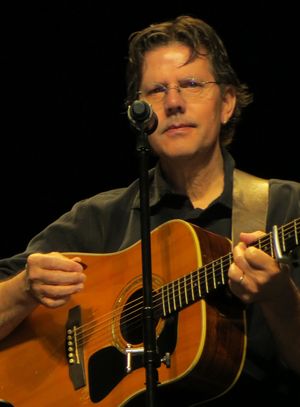 Michael Lewis is a songwriter's songwriter. He cares deeply about how each song is written and carries out the task with lyrical and musical integrity. Here you will find honest, gritty and emotionally-intelligent songs written, recorded and performed with wit, poignancy and a 'head in the clouds-feet on the ground' brand of realism that always moves, always connects.
Lewis is a first-rate guitarist and certainly has the knack for writing great songs and producing even, layered recordings.  His skills as an accompanist are evident from the very first note.  He plays with a dynamic and expressive conviction which combine his expansive skills on guitar, piano, Irish bouzouki and mandolin with a voice that is powerful, rich and stirring. Lewis switches effortlessly between instruments creating a listening experience that is panoramic and interesting, and always with a poet's ability to capture what is universal and enduring in human experience.  He has been awarded two grants from the Indiana Arts Commission and the National Endowment for the Arts. 
When not on the road performing, Lewis enjoys walking the fields and woods of the surrounding countryside with his dog Ruby. He is a big fan of 19th and early 20th Century British literature, his favorites being Dickens, Hardy, Virginia Woolf, John Galsworthy, Rosamond Lehmann, and Austen.  Contemporary(isn) influences include Joanne Harris, John Fowles, Sebastian Faulks, May Sarton, Mary Oliver, Naomi Shihab Nye, Rainer Maria Rilke, William Styron, Sarah Waters. Susanna Moore, John Banville and Michael Ondaatje, among others.  He is an avid opera lover, enjoys classical and choral music, and is a faithful fan of Masterpiece Theater.  Michael is currently at work on his first novel.
For more information about his solo music, see his website at
www.michaellewismusic.net