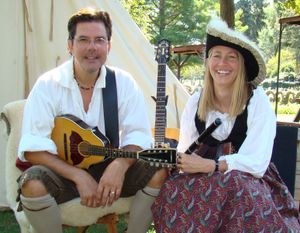 Traveler's Dream enjoys a reputation as one of the Midwest's finest historical music bands. Their diverse repertoire brings to life the music of the common man in 18th and early 19th century America: French-Canadian paddling songs, sea shanties, military fife tunes, Civil War music, and songs from America and the British Isles. Wilson and Lewis have shared their authentic historical music at living history events, museums, historical conferences, colleges, and state and national historical societies. With a Ph.D. in American history, Wilson has a broad understanding of the ways that her songs were once woven into the social fabric of early America.
To hear "AH! SI MON MOINE VOULAIT DANSER!" click the mp3 link below.
Listen to mp3

Additional music clips available on the RECORDINGS page.
MUSICAL JOURNEY TO THE MIDWESTERN FRONTIER (Elemenary Program) 
From the rousing choruses of French paddling songs to the stirring sounds of the fife and rope-tensioned drum, students are transported to the colorful period of the French fur-trade period. Students see examples of beaver pelts and other furs, and volunteers step forward and model authentic 18th-century voyageur clothing styles. Then the journey moves forward in time to the early 1800's when settlers from many ethnic backgrounds brought their distinctive cultures and musical traditions to the Midwest. Students are captivated by a vibrant mix of traditional sounds: the uplifting songs of the Ohio river boatmen, Irish jigs and reels, colonial fife tunes, boisterous sea chanteys, and folk songs full of fun and adventure Dressed in period clothing, Michael and Denise fully engage students with their colorful stories and ready humor, their wide array of folk instruments, and by inviting students to be active participants. To end the program student volunteers are asked to be part of a "frontier band" and join Traveler's Dream in a rousing rendition of a favorite pioneer song. 

To schedule a program, inquire about college workshops, or to learn how the elementary program connects to the Indiana Curriculum standards, email denise@travelersdream.net
"Denise, I just wanted to let you know how much we appreciated your visit to our school. Our students were very much engaged and intrigued with the many instruments that you played. You and Michael combined a nice touch of music, history, and student involvement in your presentation. Job well done! Thanks for visiting." 
Mark Mayhew, Assistant Principal 
South Newton Elementary School